Without irrigation, farming in the Westlands area of California would be limited and ineffectual. The history of Westlands is one of continual adaptation, careful water stewardship and advanced technology. By maintaining a fierce commitment to sustainability, the Westlands' comprehensive water supply system continues to adapt, educate, and surpass conservation goals. Throughout its history, Westlands Water District has demonstrated a lasting dedication to water conservation and recognized that the long-term survival of its farms depends on the effective management of California's precious water resources.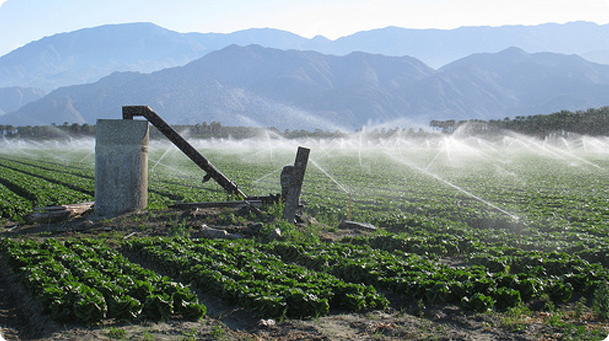 Before Westlands began receiving Central Valley Project (CVP) water, growers on the west side of the San Joaquin Valley relied on groundwater pumping. The dependence on groundwater led to severe overdrafts, widespread land subsidence and other environmental damage. Growers primarily grew a limited variety of crops, focusing on cereal grain crops such as wheat and barley. California's first legislature recognized a need for developing year-round irrigation water supplies for the fertile San Joaquin Valley as early as 1850, but planning was limited to the east side. It was to be another 87 years before the CVP would become the main source of water for the Valley and an additional 26 years before San Luis Act facilities would bring surface water to the Westlands area.
Farming with Deep Well Irrigation (1900 – 1940's)
At the turn of the century, about one-in-ten homesteaders in today's Westlands area had their own water well. Others hauled water from their neighbors or from the Southern Pacific's coaling station in Pleasant Valley. The first deep well on the west side was drilled just west of present-day Lemoore Naval Air Station by G.T. Willis in 1909. Standing water was at about 50 feet, but Willis went down 700 to 800 feet to get more water. He didn't get enough water to warrant further development of the well.
The first significant irrigation in the Westlands area began about 1915 with the drilling of deep wells by individual operators on large acreages. By 1922, about 33,000 acres of land in today's Westlands was under deep well irrigation. The greatest period of growth of irrigated acreage in the area began about 1936 and gained momentum during World War II.
By the mid-1940's, west side wells were producing 1,000-1,100 gallons of water-per-minute, capable of irrigating about 150 acres of summer crops or 300 acres of fall crops. Farm size ranged from about 1,265 acres on the north end of the present District to 4,275 in Westland's midsection.
In 1942, the Westside Landowners Association was formed to urge and help finance studies of the feasibility of developing and constructing water supply systems to serve the west side. The first project was a contract with the Bureau of Reclamation to investigate the possibility of supplying surface water to west side lands from the CVP via Mendota Slough, through an off-stream site at San Luis or some other means.
Westlands Water District is Formed (1950's – 1960's)
By the early 1950s, growers on the west side had recognized that their farmland was some of the most fruitful and productive farmland in the world, and would require increased water supply to meet the lands' full growing potential. In 1952, growers of 400,000 acres of west side land petitioned the Fresno County Board of Supervisors for the formation of a water district. Among the prime movers in the organizational effort were Jack O'Neill, Russell Giffen, Frank Diener, Harry Baker and Louis Robinson. Following an election by the landowners involved, the board of supervisors declared Westlands Water District formed on September 8, 1952.
On June 5, 1963, Westlands Water District entered into a long-term water service contract with the federal government providing for surface water delivery over a period of 40 years. The water was to cost no more than $7.50 per acre-foot canal side. The contract also provided for Westland's payment of an additional $.50 per acre-foot of water delivered for drainage service.
In 1963, one pipeline lateral was under construction, designed to bring water from the Fresno Slough along Adams Avenue to the San Luis Canal alignment area for construction purposes. Growers who had the good fortune to be located along this pipeline were able to get the first surface supplies in 1964, albeit a small amount.
Westlands and Westplains Merge (1962 – 1965)
Westplains Water Storage District, organized in 1962, encompassed 214,000 acres of land lying to the west of the original Westlands Water District and generally west of the present course of the San Luis Canal. Westplains negotiated for a supply of state-developed water from the San Luis Reservoir but soon learned that the state could only serve a fringe of land along the western edge of their district. By 1964, it was apparent that Westplains would have to look to the federal government for a supplemental surface water supply.
At about the same time, the Department of the Interior decided that a considerable advantage would be gained, through economies of scale in operation and the conservation of water, if Westlands was merged with the Westplains Water Storage District. At the United States' urging, and after negotiations on the terms of the water supply and distribution system construction contracts, Westlands Water District and Westplains Water Storage District merged by act of the California Legislature on June 29, 1965. The enlarged Westlands Water District encompassed about 592,000 irrigated acres at the time, although additional lands have been annexed to Westlands since then.
Originally, Westlands entered into a water supply contract with the Bureau in 1963, providing for the delivery of 900,000 acre-feet annually. Two years later, when Westlands merged with Westplains Water Storage District, the Bureau committed an additional 250,000 acre-feet annually to Westlands, recognizing that such an increase was still insufficient for the additional irrigable acreage.
The Central Valley Project (1961 – 1968)
In 1961, the federal government signed a joint-venture agreement with the State of California for federal construction of the San Luis Unit of the Central Valley Project (CVP). The CVP remains one of the largest public works projects ever conceived and built by man. Groundbreaking of the San Luis Unit of the Central Valley Project took place in 1962. The San Luis Canal was completed in 1968 and Westlands began receiving water deliveries thereafter.
Westlands Addresses Drainage Issues
The original authorization for Westlands Water District in the San Luis Act included provisions for drainage service. Before the construction of the San Luis Unit facilities, it was believed that approximately half of Westlands would eventually need drainage service to remain productive.
To address this problem, the statute that authorized the San Luis Unit contained provisions requiring the United States Bureau of Reclamation to collect and dispose of drainage water. Reclamation started construction of a drainage collector system in 1976 to dispose of drainage water into the San Luis Drain and Kesterson Reservoir. Reclamation planned to complete the San Luis Drain to a point near Chipps Island in the Sacramento-San Joaquin River Delta as a desalting alternative. However, the drainage facilities were shut down in 1986 due to unforeseen impacts to wildfowl at Kesterson Reservoir from selenium – a naturally occurring element – in the drainage water.
Westlands' Water Conservation Program has been actively involved in providing growers with drainage information and assistance directed at achieving higher irrigation efficiencies. The main emphasis of the Westlands 1987-91 Irrigation Improvement Program was to provide nearly $1 million to Westlands' growers to obtain the services of irrigation consultants. Under this program, consultants evaluated the growers' irrigation systems and management and made recommendations that were directed at increasing irrigation effectiveness and reducing deep percolation. An additional $8 million has been spent by Westlands to research emerging drainage technologies, including land application, evaporation and solar ponds, biological selenium removal, a deep injection well, cogeneration, agro forestry, and upper zone pumping.
Westlands currently has no outlet for subsurface drainage water, but a litigation judgment has ruled that the United States government continues to have an obligation to provide drainage service. Meanwhile, Westlands' continues to utilize state-of-the-art advanced irrigation practices to manage drainage and salinity issues as demonstrated through proven techniques of intense irrigation management, crop rotation and salinity testing.
Current Conditions
Westlands has experienced a decrease in its water supply since the drought that began in 1986. Drought conditions as well as environmental regulations have led the Bureau of Reclamation to dramatically reduce the amount of water it delivers to Westlands. Today, Westlands can expect to receive only about 50 percent of its contractual water supply* in an average water year.
Despite facing chronic water shortages, the family owned farms within the Westlands Water District are extremely productive and water-efficient, largely due to the installation and maintenance of modern technological innovations. Today, Westlands growers continue to produce more than $1 billion worth of food and fiber crops annually.
* Current Site, History, Water Supply & Drainage Issues