Drainage is one of the oldest problems faced by irrigated agriculture worldwide. The naturally occurring salt found in Delta waters and west side soil further complicates the drainage issue. Without proper drainage and disposal, this saline water can impact the root zones and germination of plants, preventing crop growth and reducing yields. Westlands' salinity and drainage concerns are complicated by soil structure in areas where dense clay layers of varying depth and thickness restrict natural drainage. This causes an accumulation of unused irrigation water above the clay layers, resulting in a near-surface water table.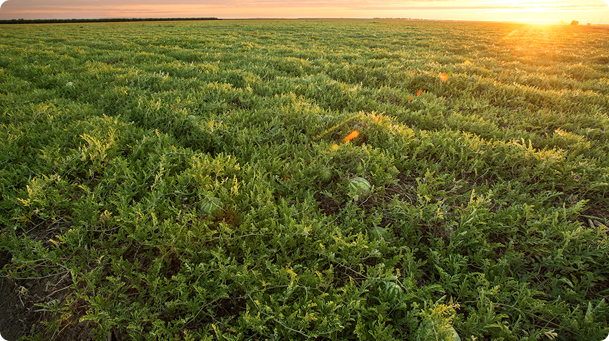 To address drainage issues, Westlands employs intense irrigation management techniques restricting deep percolation to the absolute minimum needed to maintain a salt balance and choosing a crop rotation and cultural management regime to minimize the required percolation. Salinity is managed with a unique and advanced management of salinity testing, seed germination, infiltration and crop selection.
Drainage Management Research
Since 1985, Westlands has studied a number of available or emerging drainage technologies, at a cost of over $8 million, including land application, evaporation and solar ponds, biological selenium removal, a deep injection well, cogeneration, agro forestry, and upper zone pumping. Source control efforts have proven successful in reducing problems in the drainage impacted areas of the District. Westlands has provided growers with $1 million to obtain the services of irrigation consultants. As a result, advanced water management techniques implemented by Westlands growers has reduced deep percolation below the crops' root zone and lessened the immediate impacts of the lack of artificial drainage.
Settlement of Drainage Lawsuit
On September 15, 2015, the U.S. Department of Justice and Westlands Water District approved a settlement ending a decades-long dispute over the Bureau of Reclamation's responsibility to provide drainage for the farmland within Westlands. Highlights of the settlement include: the federal government will relieve the District of its existing repayment obligation, it will provide a permanent contract, acreage limitations will be removed, a minimum of 100,000 acres will need to be permanently retired, the District will assume responsibility for managing drainage within Westlands, and CVP deliveries will be capped at 75% of its contract quantity. The settlement will require Congressional approval. For more information, view our Drainage Settlement Documents.
Drainage Litigation
In recent years, the lack of drainage services has led to multiple court cases in which Westlands sought to enforce the contract in court. A litigation judgment has ruled that the United States government continues to have an obligation to provide drainage service. The absence of drainage service has resulted in harm to Westlands lands, and today more than 200,000 acres have saline groundwater within 10 feet of the soil surface. Many growers with drainage-impacted lands have been able to keep their land in production by improving irrigation efficiency and changing cropping patterns. But without a long-term solution, lack of drainage will continue to be an issue throughout the west side.
Due to environmental concerns and political opposition, the United States has yet to meet its obligation to provide drainage service to the San Luis Unit, including Westlands. As a result, increasing amounts of otherwise productive land have been retired from farming purposes. Far from being rendered entirely useless, many of these retired lands are scheduled for renewed purposes in the form of solar projects.
San Luis Drainage Feature Re-Evaluation
For current information regarding the San Luis Unit Re-Evaluation visit the Bureau of Reclamation website (PDF).