Westlands Water District and its growers work together to ensure that every drop of water delivered through its comprehensive water supply system is responsibly and sustainably managed. The Westlands distribution system is fully enclosed to eliminate losses from evaporation and leakage. Today, more than 90 percent of Westlands irrigated lands are served by efficient drip irrigation systems, representing an investment of more than $500 million.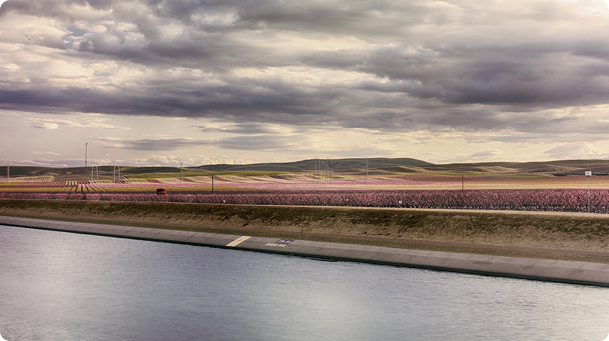 The water delivered to Westlands is pumped from the Sacramento-San Joaquin Delta during the winter months when there is an abundance of water in the system. It is then pumped 70 miles through the Delta-Mendota Canal to the San Luis Reservoir. During the dry spring and summer months, the water is released from San Luis Reservoir and delivered to Westlands growers through the San Luis Canal and the Coalinga Canal. Once it leaves the federal project canals, water is delivered to growers through 1,034 miles of underground pipe and over 3,300 metered delivery outlets.
Westlands contracts with the Bureau of Reclamation (USBR) to deliver up to 1,195,000 acre-feet of Central Valley Project (CVP) water to its more than 700 family-owned farms. The total water available is about 13 percent short of the 1.4 million acre-feet required to water the entire irrigable area in Westlands. In order to adapt to ongoing supply shortages, Westlands continues to fund increased education and technology enabling growers to effectively utilize water allotments, resulting in some of the most productive and water-efficient farms in the world.
The following documents and reports provide more detail on the current, and historical water supply and Westlands' management of this valuable resource.
Current CVP Allocation
Current announcement of CVP Allocation.
Historical CVP Allocations (PDF)
Provides historical reference of CVP Allocations from 1977 through present day.
Annual Water Use and Supply
Unlike water agencies with more abundant supplies, Westlands must allocate (ration) water to its farmers, even in the wettest years. The District's primary annual contract entitlements from the Central Valley Project (Project) total 1,195,000 acre-feet. The annual safe yield of the confined underground aquifer adds another 200,000 acre-feet.
Project Operations Report (PDF)
Report updated by Westlands including updates on facilities, reservoirs and other operational matters. 
Hydrology