Items to note
Sustainable Groundwater Management Act (SGMA) Update – Groundwater Sustainability
Plan Hearing October 30
On October 30, 2019, the Westlands Water District Groundwater Sustainability Agency (GSA) will hold a public hearing at Westlands Water District's Five Points Field Office, 23050 W. Mt. Whitney, Five Points, CA 93624. The hearing will commence at 3:00 p.m. At the hearing, staff will present a draft of the Groundwater Sustainability Plan (GSP) and will seek input from the Board and the public.
The Draft GSP will be available within the next week. Members of the public can submit written comments until October 31. Written comments must be emailed directly to sgma@wwd.ca.gov and comments may be submitted using the SGMA comment sheet provided at District's Website. In addition, if you attend the hearing you may provide written or oral comments at the hearing.
District staff will also be holding a workshop to present the Draft GSP on October 18, 2019. The location and time are to be determined. An email will be sent to growers and those who have opted into the interested parties list, when details are finalized. If you would like to be added to the interested parties list, please contact Kiti Campbell at (559) 241-6226 or sgma@wwd.ca.gov.
As a reminder, materials concerning SGMA implementation, including the effort to prepare the Draft GSP, are available on the District's website.
USA North 811 Free Training – Seminar October 9
Westlands will host a free training seminar on safe digging practices, with USA North 811, at the District's Five Points Field Office, 23050 W. Mt. Whitney, Five Points, CA 93624, Wednesday, October 9, 2019 at 10 a.m.
Hitting an underground utility can endanger your crew and the general public, and can result in fines, costly repairs, and service interruptions for you and your neighbors. This training seminar is for experienced equipment operators, construction companies, and irrigation professionals.
Put the safety of your crew, your work, and your professional reputation first. Learn: The free 811 service process; California excavation laws; and the 5 steps to safe digging. Please RSVP by calling Diana Giraldo at (559) 241-6233 or online at Eventbrite.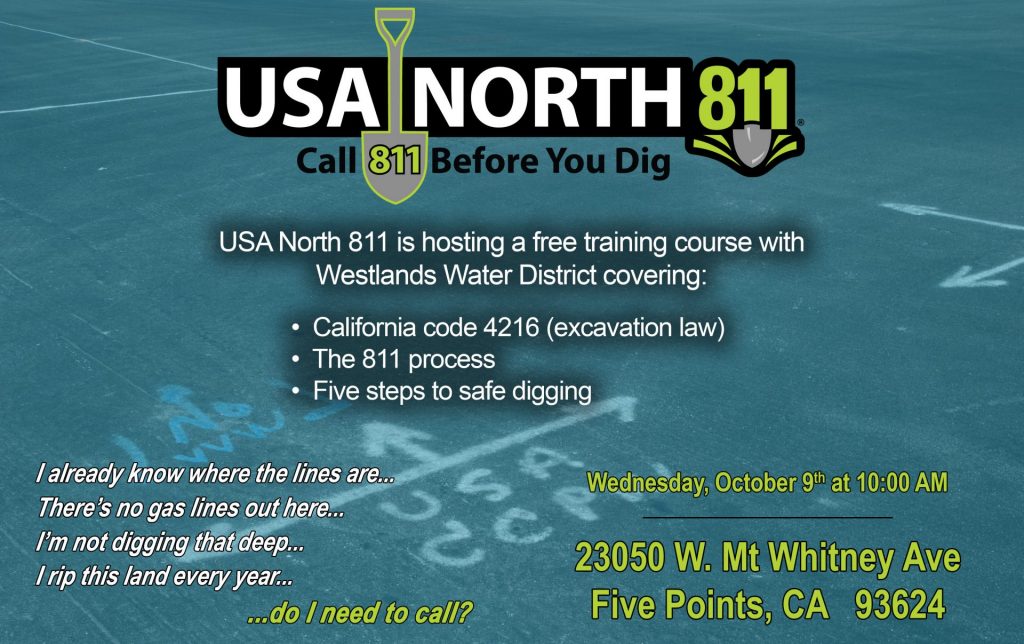 Westlands Water Quality Coalition Members – Workshop September 26
The Westlands Water Quality Coalition (WWQC) will hold a workshop Thursday, September 26, 2019 from 10:00 a.m. to 11:30 a.m. at the Fresno County Farm Bureau Office, 1274 W. Hedges Avenue, Fresno, CA 93728. The workshop will cover information regarding New Order requirements. For further information and to RSVP, contact James Reynolds at (559) 241-6231
or Nicole Branum at (559) 241-6235.
Land-Based Charges September Installment – Due September 25
The September installment of the 2019-2020 Land-Based Charges is due September 25, 2019. A penalty will be added to unpaid charges on the day following the payment due date. Please contact the District at (559) 241-6212 for additional information about Land-Based Charges.
2019-2020 Rescheduled Water
The District anticipates the amount of water that can rescheduled into the 2020 water contract year will be limited to about 120,000 acre-feet. Any water in excess of that quantity will be lost.
Additionally, if San Luis Reservoir (SLR) fills on or after March 1, then any Rescheduled Water that is not used when SLR begins sustained drawdown will likely be lost, depending on the "foregone pumping" calculated while SLR is full. In 2019, water users delivered 70,000 acre-feet from the time SLR filled on March 9, until water levels began a sustained drawdown on April 12. Reclamation declared that any unused Rescheduled Water was lost because the amount of calculated foregone pumping exceeded the amount of remaining Rescheduled Water stored.
The likelihood of SLR filling at the end of February or beginning of March 2020 is very high, in which case water users would experience a similar loss of Rescheduled Water. For these reasons, water users should manage their water use between now and the end of the water contract year to reschedule an amount they can use in the March through early April time period. If water users reschedule more than they can use in this time period and SLR fills, then any unused Rescheduled Water will likely be lost.
Be aware that neither the types of water in an account, nor participation in the Supplemental Water program are factors that affect the amount of water that an individual water user can carryover under the District's Rescheduling Guidelines. As a reminder, if a water user loses water, the District will bill the water user the San Luis & Delta-Mendota Water Authority O&M, applicable District rates, and any other costs the District incurs. If you have any questions, please contact Russ Freeman at (559) 241-6241.
Water supply
2019-2020 Water Supply Update
On June 14, 2019, the Bureau of Reclamation increased the 2019-2020 Central Valley Project (CVP) allocation to 75% for south-of-Delta agricultural water service contractors. The District does not anticipate any additional increases to the CVP allocation for this water contract year.
The CVP currently has approximately 8.8 million acre-feet of water stored in northern CVP reservoirs; this represents 142% of the 15-year average. Shasta Reservoir storage is approximately 3.5 million acre-feet; 137% of the 15-year average. Federal storage in San Luis Reservoir is 477,000 acre-feet; 161% of the 15-year average. Jones Pumping Plant is operating at capacity, approximately 4,300 cubic feet per second, and is expected to continue to do so through September.
Delegation of Authority to General Manager to Approve Transfers of Water Out of the District for Groundwater Banking and Exchanges
At its August 20, 2019 meeting, the Board of Directors delegated authority to the General Manager to approve transfers of water out of the District for groundwater banking and exchanges, subject to certain conditions. All other water transfers out of the District must be reviewed and approved
by the Board of Directors. Visit District's Website for the description of conditions.
Board Decision to Approve Transfers of "Other Water" Out of the District
At its June 24, 2019 meeting, the Board approved the transfer of up to 29,956 acre-feet of Other Water allocated by the District. Water Users are responsible for obtaining regulatory approvals for transfers of Other Water out of the District. Water users who are interested in transferring
Other Water out of the District should contact their Customer Accounting Technician for more information.
Finance & Administration
2019-2020 Water Year Crop Data Collection – Due September 23
Crop report data is due to the District by September 23, 2019. The collection of crop data is required by the District's water service contract with the U.S. Bureau of Reclamation. Accurate and timely crop information is needed to document the District's water need, its efficient use, and the impacts of water shortages from both hydrologic and regulatory restrictions.
The Crop Report may conveniently be completed online using your customer web account and the web page labeled Crop Report on the selection menu. You can reference Notice No. 590, dated August 23, 2019, for additional information.
The District's Terms and Conditions for Agricultural Water Service state that water service shall not be provided to any water user who fails to submit crop information by the deadline. Your prompt compliance is appreciated and will ensure continued water deliveries.
Water Ordering and Meter Turn Off
It is important that water users comply with the District's water ordering procedures. Conveyance capacity through many laterals is constrained and District staff determines lateral demand based on water orders.
When demand exceeds the capacity of the lateral, the entire lateral is adversely affected, and water service can be lost for all users on the lateral. To properly operate and maintain the District's water distribution system, and to a larger extent the Central Valley Project, water users are required to place proper water orders in accordance with District's Terms and Conditions for Agricultural Water Service. Further, water users who are found to be running without an order will have their meter(s) turned off pursuant to Article 2, Section 2.6.H of the District's Rules and Regulations.
The schedule for placing water orders is as follows: water orders for Tuesday through Saturday must be placed the prior day between 7:30 a.m. and 9:30 a.m., by telephone or fax. Orders placed over the website are accepted until 10:00 a.m., for the following day. Water orders for Sunday
and Monday must be placed by noon the preceding Friday, either by phone, fax or website. Orders may be placed by calling (559) 241- 6250 or (800) 266-6574, by Fax (559) 241-6276, or online at District's Website. To set up a Westlands online account, please contact your Customer Accounting Technician at (559) 241-6250.
Operations & Maintenance
Advance Notice of 2019-2020 Inspection and Repair Shutdown Schedule
The following table is provided for water users as a reminder of the District's planned pumping plant system inspection and repair shutdown schedule for fiscal year 2019-2020. If you have questions regarding these scheduled shutdowns, please contact the District's Maintenance Scheduler, Jimmy Weedin at (559) 884-2523 x108.
2019-2020 Quinquennial Shutdown Schedule
Week
Division Valves
Pumping Plants
October 7, 2019
26-1.7
26L
October 14
25R
October 21
5L
October 28
14RA, 14RB, 14RC
November 4
29RA, 29RB
November 18
8L
8L
December 2
14L
December 9
28RA, 28RB, 28R-1.0W
December 16
9L
January 6, 2020
23L
January 13
11L
January 27
18R
Planned Maintenance Shutdown Schedule – September 2019
To keep water users apprised of upcoming planned pumping plant and system maintenance, the District issues a monthly listing of the upcoming schedule for the next 45 to 60 days.
Lateral(s) Impacted
Dates
Scheduled Work
Notes
Entire Coalinga
Canal
9-24 to
9-25
Aquatic Growth
Treatment
Canal Capacity Limited (100
CFS)
Conclusion of Summer Hours of Operation
Effective September 16, all field office staff (Five Points, TFO, HFO and PVPP) returned to normal 7:00 a.m. to 3:30 p.m. hours of operation.
All other District offices and operations remain unchanged, following a schedule of 8:00 a.m. to 5:00 p.m., Monday through Friday. The emergency telephone number for after hours and holidays is (559) 224-1523.
Call Before You Dig – Notify 811 USA North
Changes to California Government Code 4216, Safe Excavation Law requires any person(s) who disc land(s) by ways of grading, trenching, digging, ditching, drilling, auguring or any other way, is now required to notify 811 USA North before work begins. The law requires the proposed excavation or path be marked beforehand. Fines and penalties apply for those not in
conformance.
To request an 811 dig ticket, call 811 directly or go to their website. For additional information, call 811 USA North or Nicole Branum at (559) 241-6235.
Resource Management
Irrigation Evaluation Cost Share Rebate
The District is offering water users a rebate for mobile lab services. Mobile lab services perform irrigation system evaluations by measuring water rate application, system distribution uniformity and by providing efficiency improvement recommendations. The amount of rebate per field evaluation is limited to 25 percent of the invoice or $500, whichever is less. Funds are limited, and availability is on a first come, first serve basis. Application and information are available on the District's website or call Juan Pacheco at (559) 241-6225 for additional assistance.
Low Interest Irrigation Equipment Lease Program
The District's Expanded Irrigation System Improvement Program (EISIP) offers low interest loans at 3.1% to water users for the lease-purchase of irrigation system equipment. EISIP provides funding up to $130,000 towards the purchase of irrigation system equipment, the design of
irrigation system and purchase of portable aluminum irrigation pipe, micro irrigation, linear move and center pivots. Interested water users should contact Nicole Branum at (559) 241-6235, nbranum@wwd.ca.gov to begin the application process. Additional information is also available
on the District's website.
Lands Available for Lease
The District has several parcels for lease in Fresno and Kings counties. For a list of available land, please contact Cork McIsaac of Agriculture Industries, Inc. at (916) 372-5595 or (800) 822-1415.
You are invited to attend
WESTLANDS WATER DISTRICT GROUNDWATER SUSTAINABILITY AGENCY
PUBLIC WORKSHOP AND HEARING
You are invited to attend the Westlands Water District Groundwater Sustainability Agency (GSA) Groundwater Sustainability Plan (GSP) Public Workshop and Hearing, which will provide an overview of the GSP and the
public an opportunity to comment on the GSP. Westlands Water District serves as the GSA for the Westside Subbasin. Spanish translation services will be available.
The Public Workshop and Hearing will be open to the public. Community members interested in groundwater planning are encouraged to attend.
If you would like to be added to our distribution list and receive additional information on SGMA, please email: SGMA@wwd.ca.gov or phone Westlands Public Affairs at (559) 241-6233. For more information please visit our website.
---
Está invitado a asistir
DISTRITO DE AGUA DE WESTLANDS AGENCIA DE SOSTENIBILIDAD DE
AGUAS SUBTERRÁNEAS TALLER PÚBLICO Y AUDIENCIA
Le invitamos a asistir al Taller y Audiencia Pública del Plan de Sostenibilidad de las Aguas Subterráneas (GSP) de la Agencia de Sostenibilidad del Agua Subterránea (GSA) de Westlands Water District que proveerá una visión general del GSP y la oportunidad de comentario público sobre el GSP. Westlands Water District sirve como la GSA para la Subcuenca del Westside. Servicios de traducción en español serán
disponibles.
El Taller Público y la Audiencia serán abiertos al público. Los miembros de la comunidad interesados en la planificación del agua subterránea están invitados a asistir.
Si desea ser agregado a nuestra lista de distribución y recibir información adicional sobre SGMA, envíe un correo electrónico a: SGMA@wwd.ca.gov o llame a oficina de Asuntos Públicos de Westlands al (559) 241-6233. Para obtener más información, visite nuestro sitio web.