The Economic Impact Of Westlands Water District
A new study found that agricultural production within Westlands Water District is responsible for generating over $4.7 billion in annual economic activity and supporting over 35,000 jobs across the regional economy. These jobs produce the wages, tax revenue, and consumer spending that drive economic activity and livelihoods throughout the state. The new study, The Economic Impact of Westlands Water District, conducted by Michael A. Shires, Ph.D., dives into the District's significant impacts at the local, state, and national levels – and underscores the consequences of inadequate water supply for our farmers, as well as a consistent, reliable, and secure supply of domestically-grown food.
In years when available water supply is less than demands, particularly in years like this year, where the Bureau of Reclamation did not allocate any CVP water to the District, our farmers are faced with difficult decisions that carry real consequences.
The new study reflects how difficult those decisions are. The study found a "striking" correlation between local poverty levels and available surface water. When the District receives little to no water, more people in Fresno and Kings counties suffer from poverty. When the District receives a higher water allocation, economic stability improves.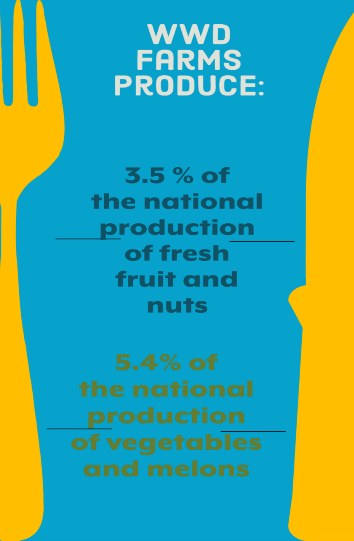 The combination of San Joaquin Valley weather and soil conditions in the District provides unique agricultural opportunities. Along with cutting- edge investments in farming practices, the environmental conditions within the District enable farmers in Westlands to produce 3.5% of the country's fruit and nut crops, and 5.4% of all vegetables and melons – and there is no domestic alternative for the production of some of these critical products. In the face of today's policy and economic instabilities, such as water supply restrictions, climate change, inflation, supply chain disruption, the COVID-19 pandemic – and most recently the crisis in Ukraine – one thing remains clear: sound water management requires collaborative, forward-looking, and science-based approaches. The future of our growers, our state, and our country depend on it.
NOTEWORTHY
The State, Federal, And Public Water Agencies Sign Mou To Improve Water Management In California
"The program advanced today represents a fundamental change in how state agencies, federal agencies, public water agencies, and other interested groups approach efforts to protect the environment and provide water for cities, industries, and farms," said Thomas Birmingham, general manager of Westlands Water District. "This program will take a comprehensive approach to restoring healthy rivers and ecosystems, improving the viability of native fish populations, and providing water supply reliability to communities and farms in nearly every region of the state. This is vitally important to California agriculture, which provides more than two-thirds of the nation's fruits and nuts and more than one-third of the nation's vegetables."
To read the Voluntary Agreements MOU and term sheet, visit California Natural Resources Agency.
To read the California Natural Resources Agency's and California Environment Protection Agency's joint press release, visit California Natural Resources Agency.
Westlands High School Scholarship Period Is Now Open.
Westlands is now accepting applications for the District's high school scholarship program. The District will award $1,000 scholarships to ten seniors graduating from westside high schools who plan to attend an accredited post-secondary institution. Applications are due May 22.
For more information or to download the application, please visit the District's website.
Primary Sidebar
In the District
Welcome Director Fortune
On March 15, the Westlands Water District Board of Directors appointed Jeff Fortune to fill the vacancy created when Director Todd Neves resigned. Mr. Fortune will serve through December 2022, when he will stand for election to fill the remainder of Director Neves' term.

Mr. Fortune, a third generation California farmer and the second generation Westlands farmer, is a "boots on the ground" farmer. Since his graduation from the University of California at Davis, he has worked alongside his father, and more recently, his two brothers, at their family farm, Fortune Farming Company. Fortune currently grows tomatoes, almonds, and pistachios on his family farm. Visit District's Website to read the full press release.
Kings County Farm Day
March 17th marked the annual Kings County Farm Day, providing an opportunity to learn about agriculture, food, and animal production, as well as the chance to speak with local farmers and ranchers. This year, 1,800 Kings County third grade students participated in Farm Day. They heard from multiple farmers and industry professionals throughout the day. Farm Day is organized by the Kings County Farm Bureau, Kings County Office of Education, and the Kings Fair.
World Water Day Symposium
Westlands' Public Affairs staff attended Fresno State's World Water Day Symposium, joining local water experts and sharing the work and impact of the District's farmers. Students visited various booths, learned about the effects of water on the region and listened to a keynote speaker discuss the importance of water to our history and Native American tribes.
Recommended Resources
WATCH: "Study Shows What Westlands Water Means to Local Economy"
"All we want is water to work… provide food to the world and live the American dream and provide for our family," said Mendota Mayor Rolando Castro . Click on Fox 26 News to watch and read the full story.






READ: "Westlands Sounds The Alarm About Valley Farm Jobs. California's Leaders Need To Listen."
The Fresno Bee Editorial Board writes: "The economic viability of farming in Westlands and throughout the San Joaquin Valley is tied to water availability. That is a problem not just for farmers to figure out; it requires good-faith work of all of California's elected leaders and state regulators. In the list of top issues to deal with, the future of farming must be near the top. Click on The Fresno Bee Website to read more.